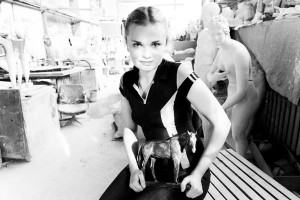 Irene Makarova
  Irene was born on the 26th of May 1977 in the family of a fighter-bomber pilot. She got interested in modeling when she was a child and attended an art school and later on studied in the Venezianov Art College studio of J.P. Karpenko in the city of Tver.
In 1997 Irene entered the Russian Art Academy of Painting, Sculpture and Architecture. She studied at the sculpture department headed by professors A.A. Bichukov and L.N. Matyushin. The monument to the outstanding Russian producer S. Bondarchuk is her graduate work.
In the year 2005 Irene Makarova finished her postgraduate course at the Academy under the supervision of People's Artist of Russia A.A. Bichukov.
Since 2006 Irene Makarova has been teaching in the Russian Art Academy of Painting, Sculpture and Architecture, sculpture department, animal sculpture class, member of the Moscow Artists' Union since 2005.
The Memorial dedicated to director — S. F. Bondarchuk on the cinema arts square in Yeisk city was established in 2007. Krasnodar region. With charitable fund "St. Nicholas the Wonderworker" assistance.
On 16 August 2008 at the same place was established the 20th century Memorial to the Great actress — Nona Mordyukova.
On 21 August 2011 there was established the Memorial to National artist of Russia — Valentine Tolkunova in Belorechensk city.
In autumn 2013 there was opened the sculpture "The seasons" by Batashevs-Shepelevs' museum in Vyksa city, Nizhegorodsky region.
On 3 December 2013 there was established the Memorial to St. Peter and Fevronia Muromskis — family's orthodox patrons and to the marriage in National Horse Park «Russia» by national fund of St. Triphone.
On 6 May 2014 there was solemnly opened the Memorial «The Glory of the Russian cavalry» in National Horse Park «Russia» in Leninsky district of Moscow region.
On 9 September 2014 there was established the Memorial to St. Sergyi Radonezhskyi in Bor city, Nizhegorodsky region dedicated to the 700th anniversary since the day of venerable Sergyi birth on the territory of the spiritual and educational complex "Sergius settlement."
On 19 February 2015 in the lobby of the trade-pedestrian bridge "Bagration" there was held the solemn ceremony of opening a memorial plaque dedicated to Russian architect, the author of the architectural conception of MIBC "Moscow-City" — Boris Ivanovich Thor.
Irene has been participating in exhibitions since 2001.
2001                XXV Youth exhibition. Exhibition room at Kuznetsky Most
2005                VII International exhibition "Equiros-2005", section of sculpture, Culture and Exhibition centre Sokolniki
2005                Exhibition dedicated to the 60th anniversary of the victory in World War II, Exhibition room at Kuznetsky Most
2006                Art-show, Central Art House
2006                IV Church and Society Exhibition Forum "Holy Russia", Exhibition centre "Gostiny Dvor"
2006                Youth Exhibition of the Moscow Union of Artists "Perspectives", Exhibition room at Kuznetsky Most
2007                IX International Exhibition "Equiros-2007", section of sculpture, Culture and Exhibition centre Sokolniki
2007                Exhibition dedicated to the 20th anniversary of the Russian Art Academy of Painting, Sculpture and Architecture, Central Exhibition Hall "Manege"
2009                XXX Youth Exhibition, Exhibition room at Kuznetsky Most
2009                "Citypark", The Moscow Zoo